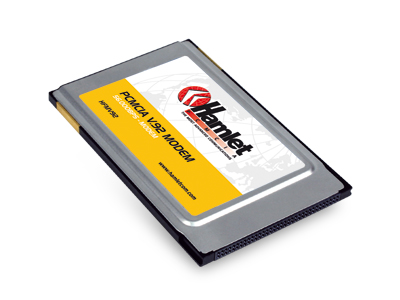 HFMV92: V92 PCMCIA Modem
Hamlet V92 PCMCIA modem is the perfect connectivity solution for notebook users. It can send fax at 14.400Bps and connect your computer to internet at the maximum available speed on the analog line. Hi-speed connection at 56.000Bps is made by V.92 protocol. Bundled software can easily manage data and fax.
Features
100% Hardware modem, 0% CPU utilization
ITU V.92 protocol for internet connection
14.400 Bps Class I fax function
Windows and Linux O.S. compatible
Specifications

PCMCIA Type II
Hayes & TIES AT Command Set
RJ-11 standard connector
3.3V low power standby mode to provide maximum battery life
Data: 56000 bps Data Receive; 33600 bps Data Transmit
Fax: 14.400/9600 bps, EIA-578 Class I, CCITT V.17/V.29, V.27ter, V.21 ch2
Speed: Up to 115,200 bps throughput with DTE conversion
Standards: V.92, V90, V.34, V.32 bis, V.32, V.22 bis, V.22, V.21, Bell 212A, Bell 103 Auto-step downward compatibility for connection with most of modems
Error Correction: ITU V.42, including LAPM, MNP 2-4 Data Compression: ITU V.42bis-compression 4:1; MNP 5-compression 2:1
Flow Control: Hardware, Software, XON/XOFF: CTS/RTS
Drivers Support: NDIS, Windows 95/98/ME/2000/XP/NT and later and LINUX
Certification: FCC part 68 and CE certified. Rohs compliant.
Package contents
PCMCIA
Quick Start Guide (English and Italian)
Cd-rom with drivers and manual
PCMCIA-RJ11 cable
RJ11 F/F adapter
Specifications and appearance are subject to change without prior notice