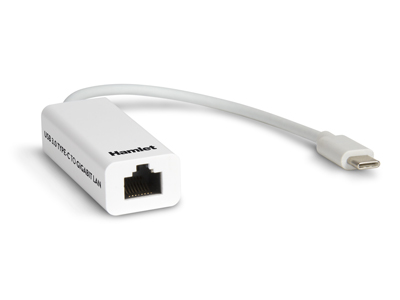 HNU3GIGATC: USB-C to Gigabit LAN
The Hamlet USB 3.0 Type-C to Gigabit LAN adapter converts the USB-C port of your laptop or desktop PC to an external 10/100/1000Mbps Gigabit Ethernet card. The adapter is compatible with latest laptop and desktop computers equipped with a USB-C port and combines the Gigabit network interface with the performance of USB 3.0 interface up to 5 Gbps. USB port powered. Its lightweight and compact design makes it easy to carry.
Specifications
Connector: USB Type-C male
Data interface: USB 3.0 up to 5 Gbps (compatible USB 2.0/1.1)
Network interface: RJ45 female port
10/100/1000 Mbps (half/full duplex) auto detection and negotiation
Supports full duplex flow control (IEEE 802.3x)
Network standard: IEEE 802.3 10Base-T, IEEE 802.3u 100Base-TX, IEEE 802.3ab 1000Base-TX
Supports IEEE 802.3az (Energy Efficient Ethernet) energy saving standard
Dimensions (without cable): 59 x 22 x 16 mm
Cable length: 20 cm
Weight: 20 g
Supports Windows 7/8/10, Mac OS 10.10 or above*
Package content
USB-C to Gigabit LAN Adapter
User manual
* Windows 7 installation requires drivers. Please download latest driver available in the download section.
Specifications and appearance are subject to change without prior notice