Product details

product data sheet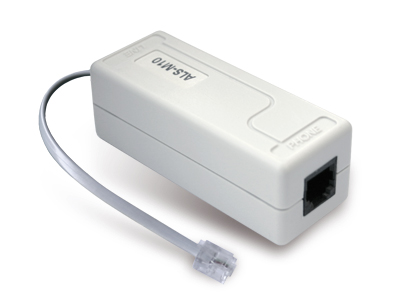 HDSLRJ56
Phone Line Surge Protector - RJ11
CODE: HDSLRJ56
EAN: 5391508632356
supports
Product menu
printer friendly page

Product description
Hamlet HDSLRJ56 protects devices connected to the telephone line from possible damage caused by lightning, electrostatic discharge and ground surges. It iscompatible with telephones, modems, routers, decoders, faxes and switchboards. It is installed between the RJ11 telephone jack and the device to be protected.
Compatible with:
Analog Modem
Telephone and Fax
ADSL Modem and Router
Telephone switchboard (PABX)
Features
RJ11 connector for telephone line connection
RJ11 socket for phone cable connection
Dimensions: 8.6 x 2.8 x 3 cm
Cable length: 11 cm
Weight: 34 g
Package contents
Phone line protector (RJ11 jack)
Quick Start Guide (Italian)
Specifications and appearance are subject to change without prior notice.
---
Footer
Hamlet is a registered trademark by Riom Services Ltd
Registered in Ireland: No. 266378