Product details

product data sheet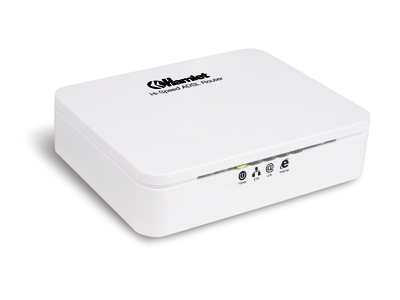 HRDSL524
Internet Router with 10/100 LAN Port Interface
CODE: HRDSL524
EAN: 
supports







Product menu
printer friendly page

Product description
Hamlet 524 Router allows all users in a local network to be quickly and easily connected to a high speed Internet access with built-in ADSL modem. It supports downstream rate from 8 up to 12/24Mbps with ADSL2/ADSL2+. It is bundled with a Web configuration utility to perform an easy configuration using a standard browser. It has NAT Firewall and VPN pass through functions. NAT Firewall function protects your local network from external intruders, VPN function allows users to connect two remote local networks together using a standard Internet connection. To use this special features, 2 Hamlet router are required.
Features
Multiprotocol Encapsulation over AAL5 (RFC 2684), PPPoE, PPPoA
Bridged or routed Ethernet encapsulation
ATM Adaptation Layer Type
VC and LLC based multiplexing
Password protection for system management
Universal Plug and Play (UPnP) support
Web-based configuration, Firmware upgradable
SNMP MIB support, Support DHCP client and server
Compliant with ADSL, ADSL2 and ADSL2+ standards
1x RJ45 10/100 LAN port auto-crossover
1x RJ11 ADSL port for telephone line
Supports NAT (Network Address Translation) function
Routing Information Protocol (RIP) v1 and v2
IP Alias, IP Policy Routing, Multi-to-multi NAT
SNTP, DDNS, DNS relay and IGMP proxy
Built-in NAT Firewall, Packet filtering, VPN pass through
Package content

ADSL2+ Ethernet Modem
Power supply
Phone cable
Ethernet cable
Utility CD
Quick installation guide
Specifications and appearance are subject to change without prior notice.
---
Footer
Hamlet is a registered trademark by Riom Services Ltd
Registered in Ireland: No. 266378