Product details

product data sheet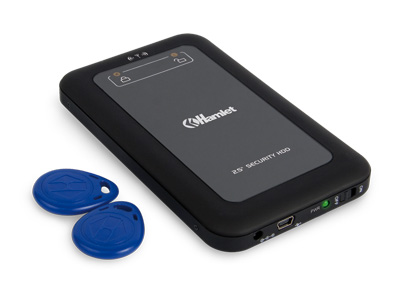 HXDU2RFID1000
2.5" USB 2.0 Encrypted HDD 1000GB
CODE: HXDU2RFID1000
EAN: 
supports






Product menu
printer friendly page

Product description
Hamlet Transponder HDD is a 2.5" 1000GB USB 2.0 hard drive equipped with RFID (Radio Frequency Identification) technology that protects your data against unauthorized access. Data security is ensured by AES 128-bit encryption.
Features
High Speed USB 2.0 interface up to 480Mbits
Backward compatible with USB 1.1
Two RFID induction keys included
RFID induction card (TAG) EM4100/EM4102/T5557 compatible
RFID Frequency 125KHz ± 6% AES 128bit encryption
RFID Induction distance 5mm ~ 10mm
Operating voltage: 5V
Dimensions (L×W×H): 13.2 × 7.9 × 1.5 cm
Supports Windows® 2000/XP/Vista/7/8/10, Mac OS 9/X
Package Content
1000GB USB 2.0 RFID HDD
2x RFID keys
USB 2.0 cable
User's manual
Specifications and appearance are subject to change without prior notice.
---
Footer
Hamlet is a registered trademark by Riom Services Ltd
Registered in Ireland: No. 266378