Product details

product data sheet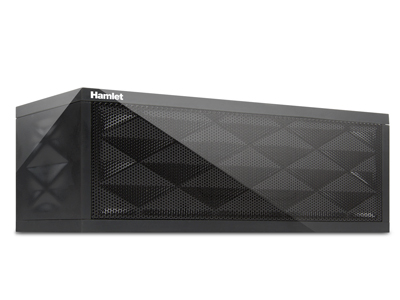 XBTSPK500B
Bluetooth Stereo Speaker + Mp3 Player + Hands-Free + FM Radio
CODE: XBTSPK500B
EAN: 5391508635432
supports









Product menu
printer friendly page

Product description
Hamlet Bluetooth Smart Sound Bar is a portable stereo speaker with Bluetooth technology that combines the functions of hands-free kit, mp3 player from micro SD and FM radio. Bluetooth Smart Sound Bar is ideal for use with Tablet and Smartphone, and is also compatible with Smart TV and computer.
Features
Wireless stereo speaker with Bluetooth wireless range of up to 10 meters
Compatible with Smart TV, Tablet PC, Smartphone and PC
Allows hands-free calls from your phone or tablet
Works as an Mp3 player from micro SD car
Micro USB port chargin
3.5 mm audio input for use with a cabl
Rechargeable and replaceable Li-ion battery
About 4 hours of continuous playback
Supported OS: Windows, Mac, Linux, iOS, Android
Specifications
Bluetooth 2.1 + EDR (Enhanced Data Rate)
Wireless range up to 10 meters
3,5 mm audio input
Micro USB port (charging only)
Speakers sizei: ø 40 mm
Output power: 3W (×2)
Frequency: 280Hz - 16KHz
Built-in microphone
Bluetooth profiies: HFP 1.5, A2DP 1.2, AVRCP 1.0, HSP 1.2, SPP
LED indicator: Red/Blue
Li-ion rechargeable battery (replaceable)
Voltage: 3,7V DC 1000mAh
Battery duration: approx. 4 hours
Dimensions: 155 x 60 x 45 mm
Weight: 360 g
Package content
Bluetooth Smart Sound Bar
3,5 mm audio cable
Micro USB cable
User manual
Specifications and appearance are subject to change without prior notice.
---
Footer
Hamlet is a registered trademark by Riom Services Ltd
Registered in Ireland: No. 266378