Product details

product data sheet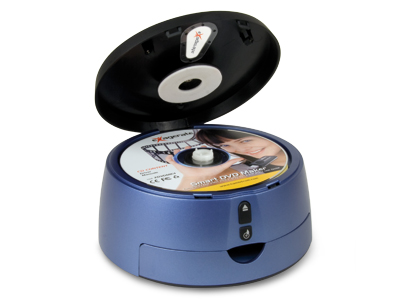 XDVDREPAIR
Professional Disc Repairing and Cleaning Kit
CODE: XDVDREPAIR
EAN: 
supports
Product menu
printer friendly page

Product description
Discontinued product
Smart Disc Repair is an easy to use device that allows you to repair*, clean and protect your CDs and DVDs, including Blu-Ray. After a simple preparation, just press the start button to initiate the automatic process for cleaning, repairing and polishing your optical supports. In order to prevent future scratches and abrasions Smart Disc Repair also applies a protective layer on the disc. An essential tool for look after your media and keep your precious data safe. Also compatible with 8 cm mini CD. Works with 220V power supply included.
features
Use on any optical disc (8/12cm) such as CD/DVD/Data/Game/Music discs
One button motorized operation
Effectively remove scratches, dust, stain and fingerprints
Improved performance to clean and repair more effectively than ever before
Non toxic cleaning and repairing fluid (SGS certified)
Keep hands free from chemicals and odour
Unique drawer design to keep all accessories within product
Can clean and repair up to 99% of scratched discs
Replacement kit available
Automatic operation powered by 220V adaptor, UL Approved
package contents
1 Smart Disc Repair machine
2 Buffing pads (col. pink)
2 Cleaning pads (col. blue)
2 Repairing pads (col. yellow)
1 20 cc Cleaning fluid
1 10 cc Repairing fluid
1 Mini brush
1 220V AC Adaptor
* Smart Disc Repair can not fix, understandably, very deep scratches (those that go to affect the data engraved), cuts on the side of the cover and broken discs.
Specifications and appearance are subject to change without prior notice.
---
Footer
Hamlet is a registered trademark by Riom Services Ltd
Registered in Ireland: No. 266378