Product details

product data sheet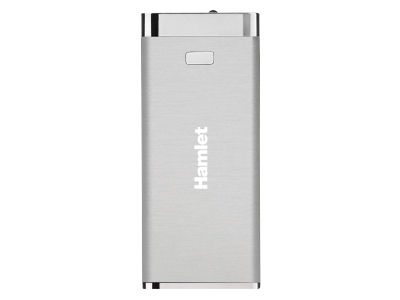 XPW450BSV
USB Portable Battery for Tablet and Smartphone - Silver Color
CODE: XPW450BSV
EAN: 8000130591241
supports
Product menu
printer friendly page

Product description
Hamlet Battery Bank is a portable external battery with 4500mAh capacity and hi-power USB output, ideal for charging smartphones, tablets and other mobile devices wherever you are. Hamlet Battery Bank is also equipped with a practical flashlight and LED indicators to verify the state of charge. Charging cable with micro USB, iPhone 4 and 5 adapters included.
Features
USB port for charging any usb mobile device
Li-ion type rechargeable battery with 4500 mAh capacity
Charging cable with micro USB, iPhone 4 and 5 connectors included
Specifications
Battery type: Lithium-ion rechargeable battery
Battery capacity: approx. 4500mAh
Output (USB): 5V DC 1A
Input (micro USB): 5V DC 1A
Dimensions: 95 x 41 x 21 mm
Weight: 130 g (approx.)
Package content
Battery bank
USB charging cable
Micro USB and iPhone 4/5 adapters
User's manual
Specifications and appearance are subject to change without prior notice.