Product details

product data sheet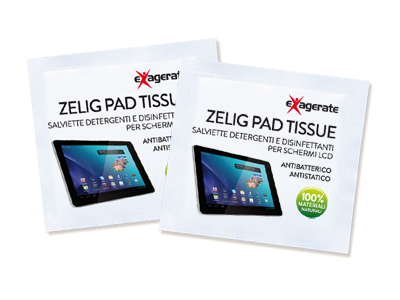 XZPAD100CLNT
Screen Cleaning Tissue - 100 pcs Pack
CODE: XZPAD100CLNT
EAN: 5391508634893
supports
Product menu
printer friendly page

Product description
Zelig Pad Tissue is a pre-moistened 2X cleaning power screen cleaning tissue with newly invented high cleaning performance formula. It has passed ROHS standard and SGS test for its bacterial growth preventability. The tissue ingredient is from 100% wood pulp. Unlike tissue from no woven, our 100% wood pulp tissue leaves less residual fiber after wiping.
Features
Anti-Static & Antibacterial
100% Natural Materials
Perfect for all LCD screens, Plasma displays and Touchscreens
Tissue size: 13 x 15 cm
Specifications and appearance are subject to change without prior notice.
---
Footer
Hamlet is a registered trademark by Riom Services Ltd
Registered in Ireland: No. 266378