Product details

product data sheet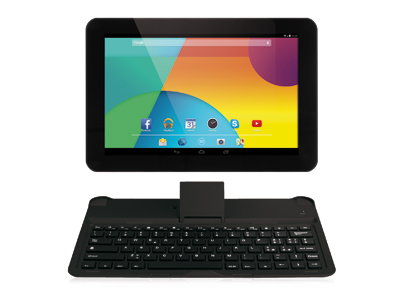 XZPAD410HDK
10.1" Quad Core Tablet PC + Bluetooth Keyboard/Cover
CODE: XZPAD410HDK
EAN: 5391508635555
supports
Product menu
printer friendly page

Product description
The kit includes the XZPAD410HDK Zelig Pad 410HD tablet pc and XZPADCVKIT aluminum cover with integrated bluetooth keyboard. Metal Cover + Bluetooth Keyboard is designed to fit the Zelig Pad 410HD perfectly and brings together in a single product a bluetooth keyboard with integrated stand for tablets and a solid aluminum cover designed to protect the tablet's screen during transport.
Tablet features
ARM Cortex A9 Quad Core processor up to 1.6 GHz
10.1" multi touch IPS HD screen 1280*800 pixels
16GB flash storage, expandable up to 32GB
Android™ 4.4 KitKat® OS
802.11b/g/n wireless interface
Supports Bluetooth 4.0
Front camera for chat and video conference
Back camera for videos and photos
HDMI port: mini HDMI ver.1.4, supports 3D and HD videos up to 1080P
Weight: 620 g
Keyboard Cover features
Bluetooth interface
Italian QUERTY layout 82 keys
ON/OFF power switch
Rechargeable lithium-polymer battery
Dimensions: 265 x 177 x 11.3 mm
Weight: 275 g
For full specifications of the products see web pages XZPAD410HD and XZPADCVKIT.
Android is a trademark of Google LLC.
Specifications and appearance are subject to change without prior notice.
---
Footer
Hamlet is a registered trademark by Riom Services Ltd
Registered in Ireland: No. 266378