Product details

product data sheet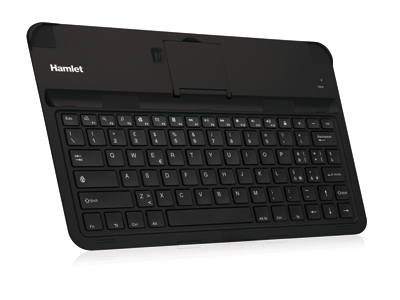 XZPADCVKIT
Aluminum Bluetooth Keyboard with Tablet Stand
CODE: XZPADCVKIT
EAN: 5391508635579
supports

Product menu
printer friendly page

Product description
Hamlet XZPADCVKIT is an aluminum bluetooth keyboard with a built-in stand for Tablet PCs. The integrated tilt stand offer maximum comfort of use of the Tablet during typing. The rechargeable lithium-polymer battery ensures prolonged use with only one charge.
Features
Keyboard with Bluetooth interface
Italian QUERTY layout 82 keys
ON/OFF power switch
Rechargeable lithium-polymer battery
Dimensions: 265 x 177 x 11.3 mm
Weight: 275 g
Package content
Bluetooth Keyboard
USB charging cable
Manual
Specifications and appearance are subject to change without prior notice.
---
Footer
Hamlet is a registered trademark by Riom Services Ltd
Registered in Ireland: No. 266378