Product details

product data sheet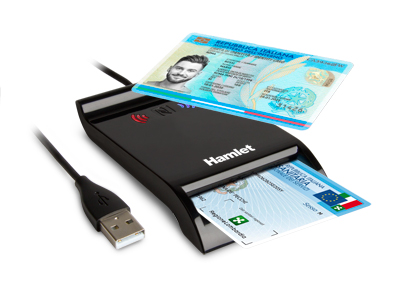 HUSCR-NFC
USB Smart Card Reader Contactless NFC for Electronic Identity Card
CODE: HUSCR-NFC
EAN: 8000130593139
compatible with




Product menu
printer friendly page

Product description
Hamlet HUSCR-NFC is a Smart Card reader with contact and contactless NFC technology that connects to your computer and allows you to use the Italian Electronic Identity Card (CIE), Regional Services Card (CRS) and the National Services Card (CNS) to access online services of public administration, sign digital documents and securely access to websites for Home Banking, e-commerce and other applications that require secure data. This Smart Card Reader is also compatible with the electronic signature software of Italian Chambers of Commerce.
Government instructions on using Italian Electronic Identity Card (CIE 3.0) + Tutorial and CIE software (middleware) download.
https://www.cartaidentita.interno.gov.it/en/citizens/cie-software/
Features
Compatible with Italian Electronic Identity Card (CIE 3.0)
Ideal for Digital Signature of electronic documents
Secure authentication to access on-line services of public administration
Compatible with Smart Card like Regional Service Card (CRS), National Service Card (CNS) or Healthcare Card (Tessera Sanitaria - TS)
Compatible with Italian Chamber of Commerce software
Compatibile with SPID (Public Digital Identity System) and CieID
Easy Plug & Play installation
Driverless installation on Windows operating system
Areas of use
Digital Signature:

gives legal value to digital documents like the traditional signature on paper

Italian Revenue Agency: income tax, VAT, etc.
INPS/INAIL: italian national insurance and pension
Italian Chamber of Commerce: trade register, certificate of incorporation, filling of documents and balance sheets, etc.
National Register of the Resident Population: civil status, residence and other certificates
Education: school enrollment, school meals
Italian National Healthcare: access medical record, book or cancel appointments online, view test results and prescriptions
Specifications
USB Reader & Writer for Contact and Contactless NFC smart cards*
NFC reader and writer for Mifare smart cards (software not included)
Supported contactless smart cards:
- MIFARE classic 1KB / 4KB, Ultralight and DESFire
- ISO 14443 type A, type B
- ISO 15693
- NFC tag type 1, 2, 3, 4A, 4B, 18000-3 mode 3, FeliCa
Operating frequency: 13.56 MHz
Operating distance: 40 mm
Supported Contact Smart Cards:
- ISO 7816-3 (protocol T = 0 and T = 1)
Supports Smart Cards operating at 1.8V, 3V and 5V
Compatible with IC/Smart Card EMV, JICSAP, I2C
USB 2.0 Full Speed (12 Mbps) connection
LED indicators for power and activity
OS Support: Windows 8/10/11, Mac OS 10.13 or later
Size (without cable): 63 x 100 x 15 mm
Cable length: 120 cm
Weight: 60 g
Package content
USB Smart Card Reader NFC
User Manual
* Writing/Reading software not provided
Specifications and appearance are subject to change without prior notice.