Product details

product data sheet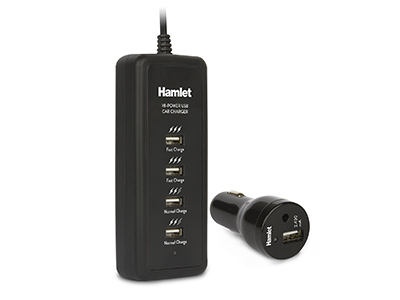 XPWC545CAR
4+1 Port Hi-Power USB Car Charger 40W
CODE: XPWC545CAR
EAN: 8000130591487
compatible with
Product menu
printer friendly page

Product description
Hamlet Car Charger turns any 12/24V cigarette lighter in a powerful USB charger that can charge up to five electronic devices simultaneously. It features 3 2400mA USB ports, 1 on the cigarette lighter plug and 2 on the charger plus 2 1000mA USB ports on the charger. 2400mA ports are especially suitable for charging tablets and smartphones with higher power demands while the 1000mA ports are ideal for charging small portable devices such as mobile phones and MP3 players.
Features
5-port USB charger with 12/24V cigarette lighter plug
Allow hi-speed charging for 5 devices at the same time
3 × 2.4A charging port for iPad, Tablet or other high power required devices
2 × 1A ports for iPhone, mobile phone and most USB powered devices
Input: 12/24V DC
Output: 5V DC 2.4A (×3) + 5V DC 1A (×2)
Power output: 40W (8A max)
Over-voltage and short circuit protection
Extra long 1.5m power cord for easy accessibility
Package content
USB Car Charger
12-24V cigarette lighter plug
User manual
Specifications and appearance are subject to change without prior notice.