Product details

product data sheet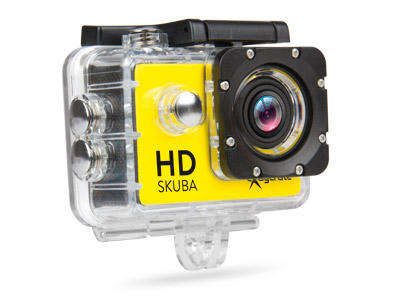 XCAM720HD
Action Camera HD with Waterproof Case and Floating Hand Grip
CODE: XCAM720HD
EAN: 8000130592286
compatible with
Product menu
printer friendly page

Product description
Exagerate Skuba Action Cam is a compact and lightweight action camera with a built-in 2-inch LCD display ideal for capturing your adventures. The HD video resolution and 110° wide angle lens allows impressive shooting. The supplied waterproof case allows underwater use up to 30 meters and provides protection against shock and dust in every other situation of use. The floating hand grip offers a solid and stable grip while shooting movies as well as allowing the camera to float on water. The rechargeable lithium battery provides up to 90 minutes of video recording.
Key Features
LCD 2" Display
Waterproof case up to 30 meters underwater
Camera lens: 110° Wide Angle
Focus: 20cm ~ Infinite
Image Resolution: 12M/10M/8M/5M/3M/2M/1M/VGA
Video Resolution: 1080P (1920x1080) 20fps, 720P (1280x720) 30fps; VGA (640x480)
Image file format: JPG
Video file format: AVI
Electronic Shutter
Shooting Mode: Single Mode/Continuous Mode
Self Timer: 2s, 10s
Exposure Compensation: -2.0 to +2.0 EV
Built-in Microphone & Speaker
Interface: Micro USB 2.0
Supported Storage Memory: Micro SD HC Class 10 card up to 32GB
Removable Lithium Battery: 3.7V 900mAh
Dimensions: 59 x 30 x 41 mm
Weight: 55 g (with battery)
Package Contents
Action HD Camera
Waterproof case
Floating Hand Grip
Wrist strap
USB cable
Removable Lithium Battery
User's Manual
Specifications and appearance are subject to change without prior notice.