Product details

product data sheet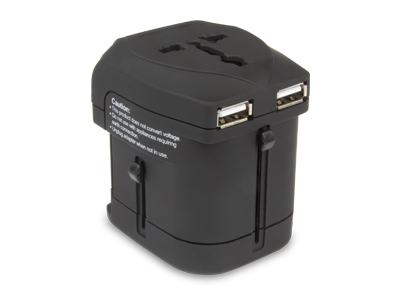 XPW2UTRAVEL
Multi-Nation Plug and Wall Outlet + USB Charger 2 x 2400 mA
CODE: XPW2UTRAVEL
EAN: 5391508634961
supports
Product menu
printer friendly page

Product description
Hamlet Travel Adapter is an innovative travel adapter that allows you to safely connect your devices in over 150 countries around the world using a system of removable plugs compatible with Europe, Britain, USA, Australia, New Zealand and China. Hamlet Travel Adapter is also equipped with two powerful 2400 mA USB ports ideal for charging smartphones, tablets, cameras, etc.
Press and slide forward the button to push out the plug corresponding to the required country. Before use, please ensure that each plug must be in backward position within the body of the adapter. The adapter is equipped with a fuse to protect connected devices from current overload. The LED indicator lights up when the adapter is plugged into an electrical outlet to indicate the presence of voltage and the operation of the power outlet and USB ports.
WARNING
• This product does not convert voltage.
• No grounding. This product is for use with unearthed or doubleinsulated appliance only.
• This product may not work with certain high power appliances such as hair dryers that requires more than 6.3A.
• Disconnect the adapter from the mains when not in use.
Features
Universal adapter 100-240V AC + USB charger for Tablet PC and Smartphone
Multiple plugs to fit wall outlets in more than 150 countries
Dual USB charger: 5V DC, 2400 mA max.
Compatible with iPad, iPhone, iPod, mobile phone, mp3, gps
Built-in 8A fuse for overload protection
Power rating: 100-240V AC 8A max.
(830W max. at 110V AC, 1750W max. at 230V AC)
Built-in child safety shutters
LED power indicator
Package content
Travel adapter
User manual
Specifications and appearance are subject to change without prior notice.