Product details

product data sheet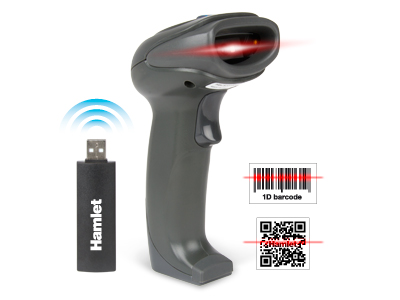 HBCS2D100W
Wireless Industrial Laser 2D Barcode Scanner for QR Codes and Linear Barcodes
CODE: HBCS2D100W
EAN: 8000130592705
supports
Product menu
printer friendly page

Product description
Hamlet HBCS2D100W is a wireless 2D barcode scanner ideal for sales points and logistics. The 2D laser scanning technology offers excellent reading performance for QR codes and linear barcodes such as EAN and UPC. The lightweight and ergonomic design allow a prolonged use without fatigue. The HBCS2D100W barcode scanner is equipped with 2200 mAh lithium battery that provides prolonged use without the need for recharging. The battery can be recharging via a standard USB port with provided charging cable.
Features
Manual wireless barcode scanner with 2D laser technology for QR code and linear barcodes
High scanning frequency up to 300 scans/second
USB wireless receiver
Wireless range: up to 50 m (open yard)
Rechargeable Lithium battery: 2200 mAh
Dimensions: 154 x 85 x 62 mm
Weight: 190 g
Package Contents
Wireless Laser 2D Barcode Scanner
USB wireless receiver
Charging cable
Power adapter
User manual
Specifications and appearance are subject to change without prior notice.
---
Footer
Hamlet is a registered trademark by Riom Services Ltd
Registered in Ireland: No. 266378