Product details

product data sheet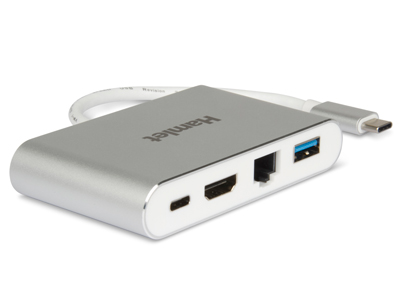 HDKC-PD100
Power Delivery (60W) Docking Station with HDMI - USB 3.0 - LAN - USB-C
CODE: HDKC-PD100
EAN: 8000130592903
supports


Product menu
printer friendly page

Product description
Hamlet USB-C Multiport adds 4 ports to your laptop; HDMI 4K monitor, Gigabit Ethernet, USB 3.0 Type A and USB-C with Power Delivery 3.0 technology, turning your laptop into a proper workstation. USB-C port allows to charge your laptop up to 60W when connected to a power supply.
Features
Connect to A 4K HDMI Monitor up to 3840 x 2160 @ 30 Hz resolution
60W laptop charging through USB-C Power Delivery port*
USB 3.0 Type A port for devices connection
Support USB 3.0 SuperSpeed data transfer rate up to 5 Gbps
Gigabit Ethernet (1000 Mbps) port for wired network access
Compact & portable, ideal for small workspaces and travel
Plug & Play, no software or driver required
Dimensions: 92 x 54 x 17 mm
Cable length: 16 cm
Weight: 85 g
Material: Aluminum
Package Content
USB-C Multiport
User guide
Important Note
Not all USB-C ports support the full functionality of the USB Type-C standard. Ensure that your laptop USB-C port supports DisplayPort Alternate Mode (DP Alt Mode) for full video functionality.
USB-C port of the docking station does not support data transfer.
* The docking station's charging functionality is intended for use with USB Type-C laptops that support Power Delivery technology.
Some laptops may partially support this functionality, while others may require the use of their original power supply.
Please contact your device manufacturer to confirm charging support using a third-party USB Type-C device.
Specifications and appearance are subject to change without prior notice.