Product details

product data sheet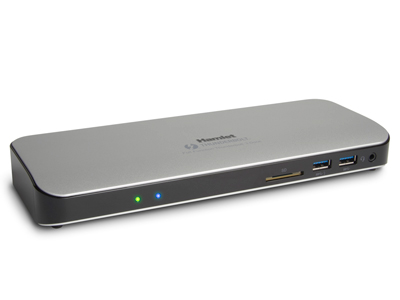 HDOCKS500TB3PD60
HDMI - Gigabit LAN - 5 USB 3.0 - TB Out - Audio - SD Reader
CODE: HDOCKS500TB3PD60
EAN: 
compatible with



Product menu
printer friendly page

Product description
Hamlet HDOCKS500TB3PD60 Docking Station expands the working area of your screen and your notebook's connectivity with a single Thunderblot 3 (USB-C) cable. HDMI video output with 4K Ultra HD support allow you to connect an external display to extend your PC desktop.
The Tunderbolt 3 port with Power Delivery (PD) technology allows connecting and charging your laptop with a total power of 60 Watts. The other Thunderbolt 3 port allows to connect an additional 4K display or other Thunderbolt 3/USB-C devices. A single Thunerbolt 3 port can also daisy-chain up to six devices with data transfer rate up to 40 Gbps.
Five USB 3.0 ports provide high-performance connectivity for external USB devices and charging for smartphones and tablets PC. Docking station connectivity is completed by Gigabit port for Internet and LAN connection, audio output for external speakers or headphones and a bult-in SD card reader.
Features
Docking Station with Thunderbolt 3 (USB-C) conncection
Power Delivery technology up to 60 Watts*
HDMI and USB-C video outputs with 4K Ultra HD support
2 Thunderbolt 3 ports (one with Power Delivery function) up to 40 Gbps
5 USB 3.0 ports for keyboard, mouse, printer etc.
Gigabit Ethernet port for network connection
Audio jack for speakers, headphones and microphone
Built-in SD card reader
External power adapter included
Specifications
Thunderbolt 3 (USB-C) port for computer connection and charging
Power Delivery output: 60W (20/15/9/5V)*
2x Thunderbolt 3 port (one with Power Delivery function)
5x USB 3.0 Type-A female ports (one port supports Battery Charging 1.2)
Video outputs: HDMI female, USB-C female**
Max video resolution: 4K @60Hz (3840 x 2160 pixel)
Ethernet port (LAN): RJ-45 10/100/1000 Mbps
Audio input/output: 3.5 mm jack
Power adapter: 100-240V AC input, 20V DC 6.75A output
Dimensions: 23 x 8,8 x 2,8 cm
Weight (without cables): 455 g
Compatible with Windows and Mac
Package Content
Thunderbolt 3 Docking Station
Thunderbolt 3 cable (50 cm)
External power adapter (20V, 6.75A)
Quick installation guide
* The docking station's charging functionality is intended for use with laptops that support Power Delivery technology.
Some laptops may partially support this functionality, while others may require the use of their original power supply.
Please contact your computer manufacturer to confirm charging support using a third-party Power Delivery device.
** Connecting DisplayPort, HDMI, DVI or VGA displays via the USB-C port requires an adapter.
Note: Not all USB-C ports support the full functionality of the USB Type-C standard. Ensure that your laptop USB-C port supports DisplayPort Alternate Mode (DP Alt Mode) for full video functionality.
Specifications and appearance are subject to change without prior notice.