Product details

product data sheet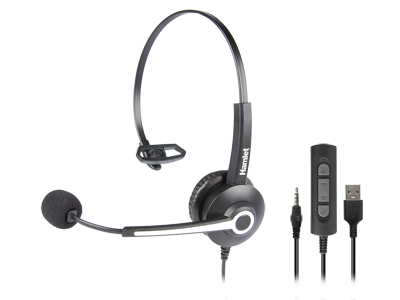 HHEADM-UJM
Monaural Business Headphone with Microphone - USB + Jack 3.5 mm + Remote Control
CODE: HHEADM-UJM
EAN: 8000130593405
supports







Product menu
printer friendly page

Product description
Hamlet Renova Headset model UJM is a monaural business headset with adjustable microphone for hands-free communication. The dual connection mode with 3.5 mm audio jack and USB connector allows use with Computers, Laptops, Smartphones and Tablets. It is ideal for videoconferencing and internet calls with applications like Skype™, Zoom, NetMeeting. Renova Headset UJM has a comfortable design thanks to the adjustable headband and its soft ear leatherette cushion. The omnidirectional microphone, with integrated noise reduction function, oers good voice quality and can be rotated 270 degrees for left or right usage. The remote control on the cable has volume regulator and Mute function. Installation is fully Plug-and-Play, simply plug the cable into your computer without the need to install additional software.
Features
Monaural business headphone with microphone
Adjustable headband and 270° rotating microphone
Dual connection with USB-A plug and 3.5 mm audio jack
Inline volume adjuster and mute controls on USB cable
Lightweight and comfortable
Soft ear leatherette cushion
Ambient noise reduction function
Compatible with Computers, Laptops, Smartphones and Tablets
Plug-and-Play, no additional software required
Speaker specifications
Transducer: Moving coil dynamic speaker
Impedance: 32 Ohm ±15%
Sensitivity: 119 dB ±5 dB @ 1 KHz
Resonance freq (F0): 800 Hz ±40%
Frequency response: 20 Hz ~ 20 KHz
Rated input power: 5 mW
Maximum input power: 20 mW
Driver size: 30 mm
Microphone specifications
Microphone type: Omni-Directional
Transducer: Electret condenser microphone
Impedance (max): 2.2 KOhm @ 1 KHz
Sensitivity: -38 dB ±5 dB @ 1 KHz
Frequency response: 100 Hz ~ 10 KHz
Max operation voltage: 10 V
Standard operation voltage: 1 V
Current consumption: ≤0.45 mA
S/N ratio: ≥60 dB
Dimensions
Height: 190 mm
Width: 145 mm
Depth: 40 mm
Cable length: 215 cm (with USB cable), 120 cm (with 3.5 mm jack)
Weight: 75 g (without USB cable)
Package contents
Headphone with 3.5mm jack connector
USB cable with remote control
User Manual
Specifications and appearance are subject to change without prior notice.