Product details

product data sheet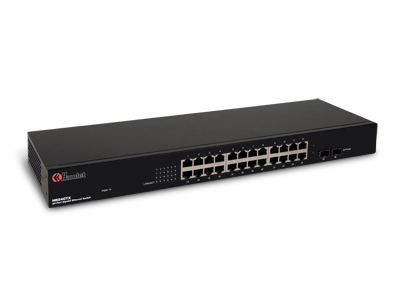 HN24GTX
GigaBit Switch 24-Port 10/100/1000Mbit 19" Rack-Mountable
CODE: HN24GTX
EAN: 
supports







Product menu
printer friendly page

Product description
Hamlet 24 ports 10/100Mbps Lan Switch is the ideal solution for small and medium offices for high quality local network. Hamlet Switch is very easy to use, allows you to monitor every single port trough dedicated LED's and it is provided with an intelligent system for automatic speed recognition 10, 100 or 1000Mbit. It is also possible to install it in cascade to expand a pre-existing network. Its Switch technology is also able to perform intelligent data flow on each port reducing the redundant data traffic. The external case is made of metal to perform a better heat dissipation.
Specifications
24 ports 10/100/1000Mbps RJ-45 Nway switch with 2 SFP ports
Standards: IEEE 802.3 (10BASE-T), IEEE 802.3u (100BASE-TX), IEEE 802.3ab (1000BASE-T), IEEE 802.3z (1000Base-X), IEEE 802.3x full-duplex flow control
Provides 2 SFP ports for optional fiber connection
Interface: 24 * 10/100/1000Mbps RJ-45, 2* Mini-GBIC
Supports MDI/MDI-X auto crossover and and polarity correction
IEEE 802.3x flow control for full-duplex and back-pressure for half-duplex
Wire-speed packet filtering and forwarding rate
Store-and-forward architecture filters fragment & CRC error packets
Network Data Rate: 10/100/1000 Mbps with auto-negotiation
Transmission Mode: 10/100Mbps: Full-duplex, Half-duplex; 1000Mbps: Full-duplex
Supports NWay protocol for speed (10/100/1000Mbps) and duplex mode (Half/Full) auto-detection
Supports IEEE 802.3az Energy Efficient Ethernet
Supports extensive LED indicators for network diagnostics
Supports 16K MAC address
Supports 448K bytes buffer memory
Supports 9K bytes jumbo frame
Operating Temperature: 0 ~ 40 °C (32 ~ 104 °F)
Storage Temperature: -40 ~ 70 °C (-40 ~ 158 °F)
Operating Humidity: 10% ~ 90% RH, non-condensing
Storage Humidity: 5% ~ 95% RH, non-condensing
LED Indicators: System: Power; Ports: Link/Act
Power supply: Internal power supply 100-240VAC, 50/60Hz Input
Dimensions: 441 x 130 x 44 mm
Package Content
24 port Gigabit Switch
Rackmount brackets
Power cable
User's Manual
Specifications and appearance are subject to change without prior notice.
---
Footer
Hamlet is a registered trademark by Riom Services Ltd
Registered in Ireland: No. 266378