Product details

product data sheet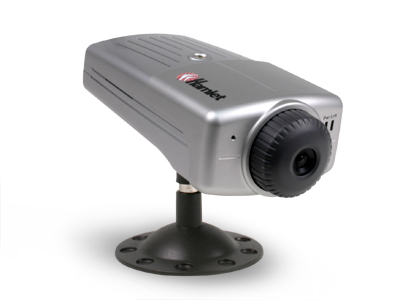 HNIPC30
Network IP Camera 10/100Mbit monitoring system
CODE: HNIPC30
EAN: 5391508631731
supports





Product menu
printer friendly page

Product description
The Network IP Camera provides the perfect solutions for delivering videos over any network employed for remote monitoring or transmitting real-time remote images over the Internet or Intranet. This Hamlet camera is a standalone system with built-in CPU and web-based solutions connecting direcly to Fast Ethernet. It can be managed remotely, accessed and controlled from any PC or Notebook over the Internet or Intranet via web browser with streaming video anytime anywhere.
Specifications
Videocamera LAN IP
Remote and local monitoring
Video and still image capturing
Event trigger alarm and e-mail
24hours video recording
RJ45-port. Supports 10/100 Mbit LAN
Remote access from web browser for live image viewing with programmable password
Windows compliant
Features
Sensor resolution 640 x 480 pixel
Sensor Color CMOS Sensor
Lens f: 6.0 mm, F: 1.8
JPEG still image compression
Video image frame rate QCIF 30fps, 25fps CIF, 10fps VGA
Compression Rate selection 5 levels, very low, low, middle, high, very high
Frame rate setting 1, 5, 7, 15, 20, auto (depends on the video format)
Video resolution 160x120, 320x240, 640x480
Automatic Gain control
Automatic Exposure
Automatic White Balance
LAN port RJ-45, 10/100M auto-sensed, AUTO-MDIX
Communication protocol HTTP, FTP, TCP/IP, UDP, ARP, ICMP, BOOTP, DHCP, PPPoE, SMTP, DDNS, UPnP
Browser: Internet Explorer 5.0 or above: Netscape 6.0 or above
Application Software: IPview application software
OS supported: Microsoft Windows 98 SE/ME/NT 4.0/2000/XP/Vista/7/8/10
TCP/IP; Static IP Address or Dynamic IP Address
64 users account maximum
Date/Time Setting
EMI: FCC/CE/VCCI class B
Package contents
Camera
Quick Start Guide (English, Italian, German, French, Spanish and Chinese)
Cd-rom with manual and utility
Lan cable
Camera Mounting Bracket
AC-DC power adapter (5V-2.5A)
Specifications and appearance are subject to change without prior notice.
---
Footer
Hamlet is a registered trademark by Riom Services Ltd
Registered in Ireland: No. 266378