Product details

product data sheet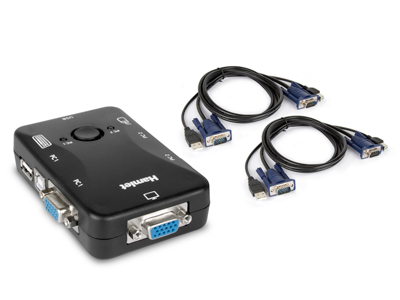 HNKVM3U
KVM Switch with 3 USB Ports + VGA
CODE: HNKVM3U
EAN: 5391508635029
supports







Product menu
printer friendly page

Product description
The new Hamlet KVM Smart Control Switch allows you to control two computers with a single monitor, USB keyboard and mouse. Use the "control" button to easily switch between two computers. KVM Smart Control Switch is very easy to install and to use. It is a really Plug and Play device that does not require drivers or software. Simply connect your keyboard, mouse and monitor and start working. 2 sets of connecting cables included.
Features
LED indicator for easy status monitoring
Two KVM cables included (no need for a separate cable)
No power supply required
PC Selection: Push Button
2 USB (Type A) ports for Keyboard and Mouse
Extra USB 2.0 port for sharing USB devices
Monitor connection: VGA HDDB-15 female
Max. Video Resolution: 1920 x 1440
Power Type: Bus Power
Weight: 95g
Dimension (without cables): 100 (L) x 75 (W) x 28 (H) mm
Compatible with Windows, Mac OS, Linux, Netware, Unix
PACKAGE CONTENT
1 x KVM Smart Switch
2 cables sets for PC connection
User's manual
* Some video resolutions lower than 1920 x 1440 pixels may not be supported
Specifications and appearance are subject to change without prior notice.