Product details

product data sheet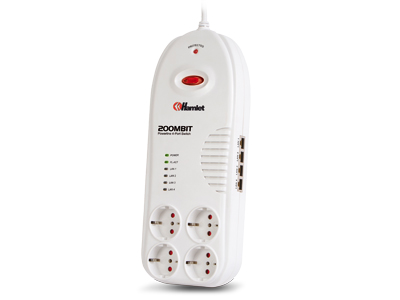 HNPL200P4
Multiple Socket with Powerline 200Mbit Technology
CODE: HNPL200P4
EAN: 5391508632110
compatible with
Product menu
printer friendly page

Product description
Hamlet Powerline 200M offers you the possibility to have at your disposal, in your workplace, 4 x 10/100 Ethernet ports connected with Powerline HomePlug AV standard at 200Mbps and 4 protected surge. It supports up to 2300 Watt.
Features
Line Rate: up to 200 Mbps
Frequency Band: 2 ~28 MHz
Access Methods: CSMA/CA
Qos: 4 Levels priority, 8 levels VLAN priority
Modulation: OFDM (QAM 1024/256/64/16, BPSK, QPSK, ROBO)
Port: Four RJ45 for 10/100 Base-T Ethernet
Standards: IEEE 802.3, IEEE 802.3U, HomePlug AV1.1
Operating System: Window 98 SE, Me, NT, 2000, XP, VISTA, MAC, Linux
Nodes: Supports up to 16 nodes per network
Supports 128bit AES Link Encryption with key management (optional)
Distance: AC Wire 200 meter
Max Surge Voltage: 6000V
Max. Spike Current: 39000A, Joule rating: 1140J
AC rating: 230V, 10A
EMI/RFI: Insertion loss 20dB at 150KHz ­ 30MHz
LED indicators: Power, PL-ACT, LAN1 ~ LAN4
Minimum Requirements
PC or other device with Ethernet Network Adapter
AC Power Outlet
Another HomePlug device
Note: A minimum of two HomePlug devices are required to create a Powerline Network.
Specifications and appearance are subject to change without prior notice.