Product details

product data sheet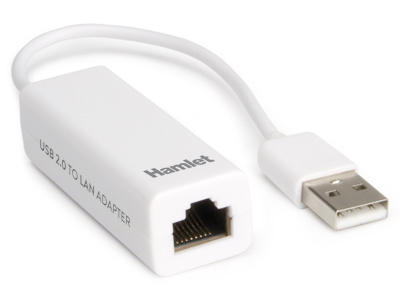 HNU2F100
USB 2.0 - LAN Adapter 10/100 Mbit
CODE: HNU2F100
EAN: 5391508635326
supports








Product menu
printer friendly page

Product description
Hamlet USB to LAN adapter supplies any PC or notebook with an external network adapter, by connecting the device to the USB port. The adapter is compatible with both desktop and notebook PC and supports 10/100Mbps speed auto detection. Power supply from USB port.
Specifications
Data Bus: USB 2.0 (compatible USB 1.1)
Network Interface: Female RJ45 jack
Auto detection 10/100 Mbps (half/full duplex)
Supports full duplex (IEEE 802.3x)
Network Standards: IEEE 802.3 10Base-T, IEEE 802.3u 100Base-TX
Dimensions: 60 x 22 x 16 mm
Weight: 20 g
Cable lenght: 16,5 cm
Supports Windows XP/Vista/7/8/10, Mac OS 10.5 or above, Linux (kernel 2.6.14 or above), Android 4.0*
Package content
USB 2.0 to LAN adapter
User manual
* Some versions of Android may not support Ethernet functionality.
Specifications and appearance are subject to change without prior notice.