Product details

product data sheet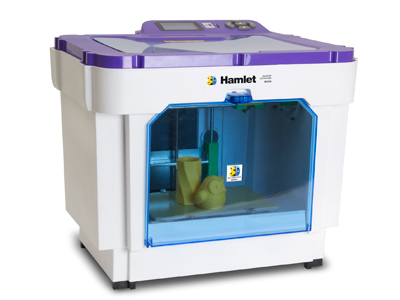 HP3DX100
3D printer for making three-dimensional objects
CODE: HP3DX100
EAN: 5391508635258
supports






Product menu
printer friendly page

Product description
3D printer is a new milestone in consumer electronics bringing on your desk the possibility to print three-dimensional objects both designed by you or downloaded amongst the numerous models available on the Internet. Hamlet 3DX100 allows you to create working prototypes and finished models from a simple ABS or PLA filament. The printer uses 3D printing additive technology, which consists of an innovative manufacturing method of a hot thermoplastic filament deposition. The printer works both connected to a PC or in standalone mode using a Secure Digital memory card reader.
Specifications
Printing technology: additive manufacturing of thermoplastic materials
Printing materials: ABS/PLA
Supported files: GCODE-STL
Precision level: ±0.2 mm/100 mm
Print resolution: 0.15~0.4 mm
Nozzle diameter: 0.4 mm
Print speed: 10~120 mm/s, ±24 cc/h
Max print size: 225 x 145 x 150 mm
Extruder operating temperature: 180-260 °C
Base operating temperature: 60-110 °C
Print from PC via USB port
Standalone print via SD card
Printer dimensions: (W x D x H): 510 × 470 × 430 mm
Power supply: 220V 250W
Package contents
3D printer
Power cord
USB cable
Tools kit
Base for printing
4 clips
SD card
ABS filament spool (1kg)
Fixing screw for ABS filament spool
User manual
Specifications and appearance are subject to change without prior notice.