Product details

product data sheet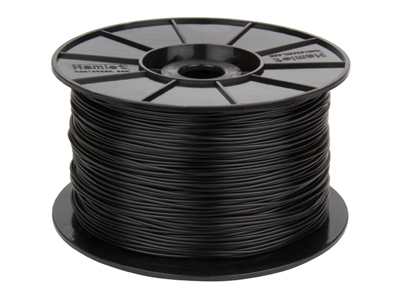 HP3DXPLABK
Bio-Plastic PLA Spool 1Kg Black
CODE: HP3DXPLABK
EAN: 8000130591081
supports
Product menu
printer friendly page

Product description
​​PLA (polylactic acid) filament for Hamlet 3D printers is a bioplastic derived from renewable sources such as corn starch. PLA is biodegradable and nontoxic. Compared to ABS, PLA is less prone to the phenomenon of dilation and constriction favoring a high-quality printing for large objects; the extrusion temperature leads to a lower energy savings for the realization of 3D printed models. The items printed in PLA will become more glossy but perishable over time due to biodegradability.
Specifications
Material: PLA (polylactic acid), CE certified
Filament diameter: 1.75 mm
Filament color: black
Filament weight: 1 kg
Spool diameter: 165 mm, central hole diameter: 40 mm
Operating temperature: 170 °C ~ 200 °C
Specifications and appearance are subject to change without prior notice.
---
Footer
Hamlet is a registered trademark by Riom Services Ltd
Registered in Ireland: No. 266378