Product details

product data sheet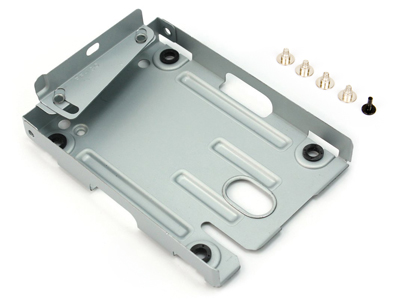 HPSBAY25
PS3 Mounting Bracket for 2.5" Hard Disk
CODE: HPSBAY25
EAN: 8000130591449
supports
Product menu
printer friendly page

Product description
The HPSBAY25 mounting bracket is needed to install a 2.5" hard disk into a PlayStation® 3 system (CECH-400X series) equipped only with flash memory. The installation of a hard drive allows you to download Blu-ray movies and big size games from the PlayStation® Store.
Features
Compatible with 2.5" HDD
Designed for PS3 system CECH-400X Series
Super slim design Excellent heat dissipation
Dimension: 103 x 75 x 27 mm
Weight: 50g
Package Content
Mounting bracket for 2.5" HDD
Fixing screws
Instruction manual
Specifications and appearance are subject to change without prior notice.
---
Footer
Hamlet is a registered trademark by Riom Services Ltd
Registered in Ireland: No. 266378