Product details

product data sheet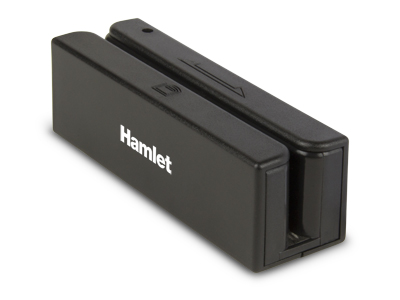 HURMAG3
USB Swipe Magnetic Card Reader 1/2/3 Tracks
CODE: HURMAG3
EAN: 8000130593221
supports






Product menu
printer friendly page

Product description
Hamlet HURMAG3 is a USB magnetic card reader and is the perfect solution for laptops, desktop computers, point of sale (POS) and other situations that require reading a magnetic stripe card. HURMAG3 reader is fully plug and play. Just connect it to a USB port and it will be recognized as a keyboard without requiring driver or software installation. The length of USB cable is 1.1 meters.
Features
USB magnetic card reader
Bidirectional swipe reading
Reads up to 3 tracks of information
Compatible with HICO/LOCO cards
Reads ISO7811, AAMVA, CA DMV & most other card data formats
LED indicator
USB interface (USB-A)
Operating Temperature: -20 to +60
Relative Humidity: 90% non-condensing
Housing: ABS plastic case
Dimensions: 90 x 27 x 28 mm
Weight: 64 g
Cable length: 110 cm
Works with: Windows, Mac and other operating systems with USB support
Package Content
USB Magnetic Card Reader
User Manual
Specifications and appearance are subject to change without prior notice.