Product details

product data sheet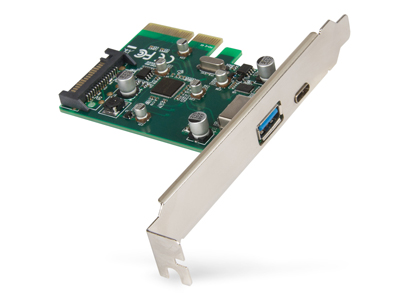 HUSB312TCPCX
USB 3.1 Gen 2 PCI Express Card Type-C + Type-A 10Gbps
CODE: HUSB312TCPCX
EAN: 8000130592262
supports




Product menu
printer friendly page

Product description
The USB 3.1 PCI Express card upgrades your computer with two USB 3.1 Gen 2 ports that provide data transfer rates up to 10 Gbps, 20 times faster than the USB 2.0 standard. USB Type-C and Type-A ports provide full connectivity for all USB devices, both for devices with new generation USB-C connector and those equipped with standard USB connector. Included low-profile bracket allows for installation in small form-factor desktops.
Specifications
Supports PCI Express Card Specification Revision 2.0, Dual Lane (x2)
Compliant with Universal Serial Bus 3.1 Specification Gen 2
Compliant with xHCI Specifications Revision 1.1
Supports USB 3.1 data transfer rate up to 10 Gbps*
USB 3.1 Type-C reversible port
USB 3.1 Type-A female port backward compatible with USB 3.0, USB 2.0 and USB 1.1 devices
Chipset controller ASMedia ASM1142
Supported speeds: SuperSpeed+ (10 Gbps), SuperSpeed (5 Gbps), High Speed (480 Mbps), Full Speed (12 Mbps), Low-speed (1.5 Mbps)
Internal 15-pin SATA power connector
USB power output: +5V DC, 900mA maximum for each port
Built-in over current protection on each USB port
Plug & Play and Hot Swap functions
Low profile bracket included
System Requirements
Windows 7 or later
Supports various Linux Kernels°
Available PCI Express slot (x4,x8, x16)
Product Dimensions
Height: 120 mm
Length: 18 mm
Width: 92 mm
Weight: 48 g
Package Content
USB 3.1 PCI Express Card
Low profile bracket
CD Driver
User Guide
* The available bandwidth (10Gbps) is shared equally between the two ports.
° Please check that kernel version of your system supports USB 3.1 SuperSpeed+ (10Gbps) protocol.
Specifications and appearance are subject to change without prior notice.
---
Footer
Hamlet is a registered trademark by Riom Services Ltd
Registered in Ireland: No. 266378