Product details

product data sheet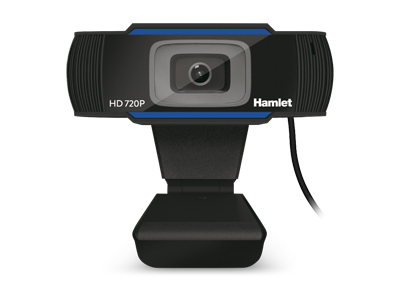 HWCAM720
720p USB Webcam with Built-in Microphone
CODE: HWCAM720
EAN: 8000130593054
supports



Product menu
printer friendly page

Product description
Hamlet HWCAM720 is a Desktop webcam with HD 720p resolution in 16: 9 panoramic format and built-in microphone for use in videoconferencing with the main communication software such as Skype, Skype for Business, Microsoft Teams, Zoom, Cisco Webex, Hangouts meet, Slack, Google Meet. 30fps Full HD video recording offers clear, smooth and crisp images for both video conferencing on Skype and streaming on YouTube. The built-in omnidirectional microphone is equipped with a noise reduction function to filter out unwanted ambient sounds and ensure clear and clean sound in any situation. The articulated support base allows you to easily attach the webcam to the monitor or simply use it resting on the desk for maximum ease of use. HWCAM720 webcam is ready for use just taken out of the box. Thanks to the Plug & Play installation without the need for drivers, the webcam is automatically recognized by the operating system once connected to the USB port of the computer.
Features
720p HD RESOLUTION
NOISE REDUCTION MICROPHONE
IDEAL FOR VIDEOCONFERENCE, E-LEARNING AND SMART WORKING
PLUG & PLAY INSTALLATION WITHOUT DRIVER
Specifications

Video resolution 1280 x 720 @ 30 frames per sec.
2 Megapixel 1/27" CMOS image sensor
Field of View (diagonal): 120°
36 mm autofocus lens
Smooth running even in poor light conditions
Automatic white balance
USB 2.0 connection
Plug & Play driverless installation
(No driver required in Windows 8/10 and Mac OS)
Built-in microphone with suppression of ambient background noise
Adjustable stand for use on desk or anchored to LCD monitor
USB Cable length: 1.8 m
Dimensions: Webcam 8.2 x 3.2 x 3.4 cm; Base 3.5 x 3.7 x 5.8 cm
Weight: 87 g
Package content
USB Webcam 720p
User Manual
Specifications and appearance are subject to change without prior notice.