Product details

product data sheet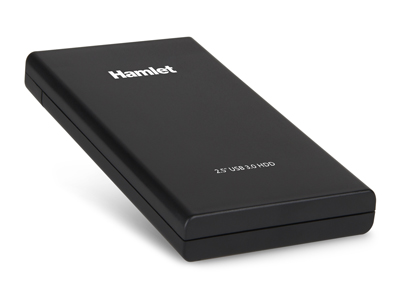 HXD25U30
USB 3.0 External Enclosure for 2.5" HDD and SSD
CODE: HXD25U30
EAN: 8000130593245
compatible with







Product menu
printer friendly page

Product description
Hamlet USB 3.0 Mobile Station is an external hard disk enclosure equipped with USB 3.0 interface that can accommodate a 2.5" SATA III Hard Drive (HDD) or Solid State Drive (SSD). The SuperSpeed USB 3.0 interface allows data transfer rate up to 5 Gbps, 10 times faster than USB 2.0, and makes Hamlet USB 3.0 Mobile Station the ideal solution to increase the storage/backup capabilities of your computer. Thanks to the screwless design, hard drive installation is quick and easy.
Features
Designed for 2.5" SATA III HDD and SSD
Compatible with SATA I and SATA II HDD interface
Supports Hard Disk up to 9.5 mm height
USB 3.0 interface up to 5Gbits
Backward compatible with USB 2.0 and USB 1.1
Screwless design for easy installation
Active LED for power and data access
USB powered, no power adapter required
Hot Swappable, Plug and Play
USB 3.0 cable included
Supports Windows 7/8/10, Mac OS 10.6 or above and Linux
Dimensions: 121 × 78 × 15 mm
Package Content
2.5" USB 3.0 HDD Enclosure
USB 3.0 Cable (60 cm)
User Manual
Specifications and appearance are subject to change without prior notice.