Product details

product data sheet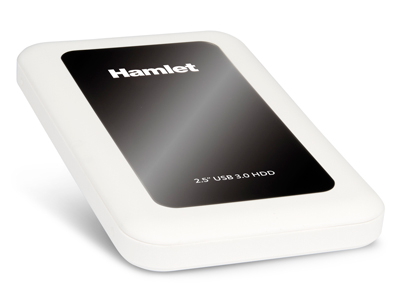 HXD25U3MWH
2.5" External Hard Disk Enclosure
CODE: HXD25U3MWH
EAN: 5391508634428
compatible with







Product menu
printer friendly page

Product description
Hamlet USB 3.0 Mirror Disk is an external Hard Disk enclosure designed to fit 2.5" SATA Hard Drives of any capacity. The new Super Speed USB 3.0 interface allows data transfer rate up to 5 Gbps, 10 times faster that USB 2.0.
Features
USB 3.0 interface up to 5Gbits
Designed for 2.5" SATA Hard Disk (up to 9.5mm height)
Compatible with SATA 1 and SATA 2 HDD interface
Backward compatible with USB 2.0 and USB 1.1
USB powered, no power adapter required
USB 3.0 cable included
OTB (One-Touch-Backup) function
Active LED to indicate power and data access
Hot Swappable, Plug and Play
Dimensions (W×L×H): 132 × 79 × 15 mm
Supports Windows XP/Vista/7/8/10, Mac OS 9.x or above and Linux (kernel 2.6.31 or above for USB 3.0 support)
Package Content
2.5" USB 3.0 enclosure
USB 3.0 cable
Utility CD
User's manual
Specifications and appearance are subject to change without prior notice.