Product details

product data sheet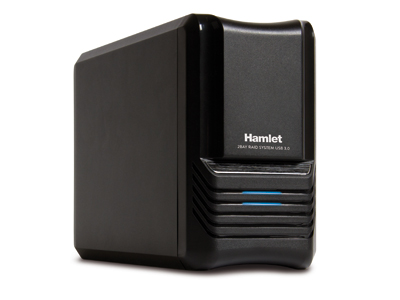 HXDAS35
2Bay RAID System USB 3.0 Desktop 3.5"
CODE: HXDAS35
EAN: 5391508635210
supports







Product menu
printer friendly page

Product description
Hamlet 2Bay RAID System is an external storage device equipped with USB 3.0 interface that can accommodate two 3.5" Hard Disk Drives. The SuperSpeed USB 3.0 connectivity and the ability to operate in RAID mode make Hamlet 2Bay RAID System the ideal solution for creating a safe, fast and reliable data backup. Depending on your needs you can choose to use RAID 0 for maximum performance, RAID 1 for data security or JBOD option to take advantage of the whole storage capacity of the installed hard drives. The aluminum case and built-in fan also ensure optimum cooling of the unit while the screw-less design allows a quick and easy installation of the Hard Disks.
Features
Dual bay enclosure for 3.5" SATA Hard Drives
SuperSpeed USB 3.0 interface
Aluminum body with built-in fan for heat dissipation
Supports RAID and Normal mode configuration
Front LED indicators to monitor disks function
Supports Plug and Play and Hot-Plug function
Specifications
Interface: 1 USB 3.0 port (USB 2.0/1.1 compatible)
Data Transfer rate up to 5Gbps
Supports 2 x 3.5" SATA I/II HDD up to 8TB total
Supported RAID modes: RAID 0, RAID 1, JBOD
Cooling Fan 25x25mm
Power Supply: AC 100~240V, 50~60Hz; DC 12V, 2.5A
Compatible with Windows XP/Vista/7/8/10, Linux, Mac OS 10.4 or above
Dimension: 200 x 120 x 68 mm
Package content
Dual Bay Enclosure
USB 3.0 cable
Power supply
User's guide
Specifications and appearance are subject to change without prior notice.
---
Footer
Hamlet is a registered trademark by Riom Services Ltd
Registered in Ireland: No. 266378