Product details

product data sheet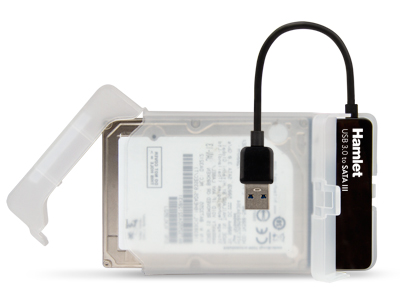 XADU3SATA
5 Gbps USB 3.0 Adapter for SATA Hard Disk
CODE: XADU3SATA
EAN: 8000130592323
supports







Product menu
printer friendly page

Product description
The Hamlet USB 3.0 to SATA III Adapter allows you to easily connect a 2.5-inch Serial ATA Hard Disk or SSD drive to any computer equipped with a standard USB port. The included external enclosure allows you to turn your 2.5-inch Hard Disk into an external drive without screws and tools. USB 3.0 interface offers a data transfer rate up to 5 Gbps, ten times faster than USB 2.0 connection.
Features
USB 3.0 to SATA adapter
Support data transfer rate up to 5 Gbps
SATA III 6 Gbps interface for 2.5" HDD/SSD
Backward compatible with USB 2.0
External enclosure for 2.5" HDD included
USB powered, Plug & Play
Adapter dimensions: 70.5 × 26.8 × 12.5 mm
Adapter weight: 20 g
Cable length: 16.5 cm
Enclosure dimensions: 130 × 75 × 16 mm
Compatible with Windows, Mac, Linux
Package contents

USB 3.0 to SATA III adapter
2.5" HDD external enclosure
User manual
Specifications and appearance are subject to change without prior notice.