Product details

product data sheet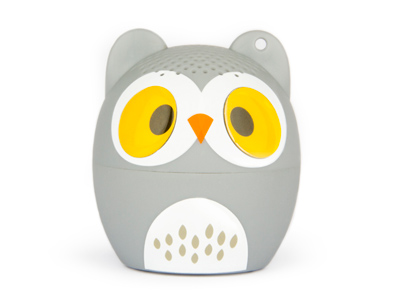 XBTPET-OWL
Mini Wireless Bluetooth Speaker - Ufo il Gufino
CODE: XBTPET-OWL
EAN: 8000130592811
compatible with
Product menu
printer friendly page

Product description
Exagerate Bluetooth Music Pets is a light and compact mini wireless speaker that lets you play music from Smartphones and Tablets via Bluetooth. The loudspeaker power offers great sound despite its compact size and the built-in rechargeable battery lets you listen to music for up to 4 hours. Bluetooth Music Pets is available in 6 colorful and cute animal subjects and is so small that it fits easily in your pocket or hanging from your backpack with the strap provided.
Features
Mini Bluetooth Speaker for Smartphone and Tablet
Bluetooth version: 4.2 (wireless range up to 10 m)
Speaker output power: 4 W
Frequency response: 100 Hz - 20 KHz
Battery type: Lithium-ion polymer (3.7 V, 200 mAh)
Charging voltage: 5 V (USB)
Battery charging time: 30 min

Charging via micro USB port

Playback time: up to 4 hours
Dimensions: 42.5 × 42.5 × 45 mm
Weigth: 40 g
Package contents

Bluetooth Speaker - Ufo il Gufino
USB charging cable (USB-A/Micro USB)
Fastening cord
User manual
Specifications and appearance are subject to change without prior notice.