Product details

product data sheet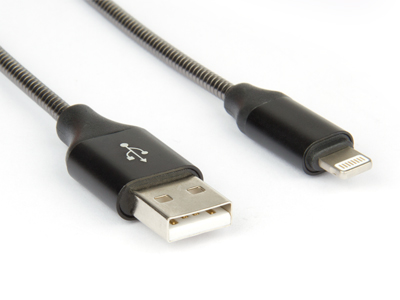 XCU2A-LGT-MM15
USB A 2.0 to Lightning M/M Cable 150 cm Metal
CODE: XCU2A-LGT-MM15
EAN: 8000130591821
supports





Product menu
printer friendly page

Product description
The USB 2.0 to Lightning cable allows you to connect Apple devices with Lightning connector such as iPhone and iPad to the USB port of the computer to charge and synchronize the device. This cable can also be used with the Apple USB power adapter to charge the device from the power outlet. The cable is 150 cm long and supports USB 2.0 connections up to 480 Mbps.
Features
Connectors: USB 2.0 Type A Male, Lightning Male
USB 2.0 data transfer rate up to 480 Mbps
Jacket material: Metal
Cable length: 150 cm
Package Contents
USB 2.0 Type A to Lightning Cable 150 cm
Specifications and appearance are subject to change without prior notice.
---
Footer
Hamlet is a registered trademark by Riom Services Ltd
Registered in Ireland: No. 266378