Product details

product data sheet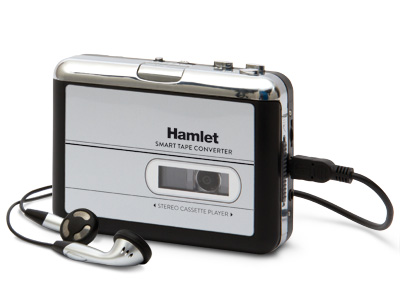 XDVDMAG
Convert your old Audio Tapes to MP3
CODE: XDVDMAG
EAN: 5391508635166
supports






Product menu
printer friendly page

Product description
Smart Tape Converter lets you turn your old tape collection into MP3s and listen to your music on your computer, smartphone, MP3 player or in your car.
Smart Tape Converter is a portable USB tape player that works with all kinds of tapes and thanks to the standard USB connection allows you to connect it to your computer and convert the music of your tapes into MP3 files using the included software.
Smart Tape Converter runs on battery or USB power when connected to your computer for flexible operation.
It can be used as a normal tape player.
Features
Rediscover your old cassette tapes collection
Convert your old tapes to MP3 to playback on computer, MP3 players or CD
Portable and compact design
Audio converter software included
Plug and Play USB device, no driver required
Audio output enables you to listen on earphones, stereo or other speaker system
Power: USB or 2x AA battery (not included)
Earphone included
Dimensions: 113 x 82 x 31 mm
Weight: 170 g
Compatible with Windows and Mac
System Requirements
1GHz Processor or above
1GB RAM
1 USB port
70MB free HD
CD/DVD drive
Microsoft Windows XP/Vista/7/8/10, Mac OS X 10.4 or above
Package Content
USB Smart Tape Converter
Earphones
USB cable
CD-ROM with software and manual
User's Guide
Specifications and appearance are subject to change without prior notice.