Product details

product data sheet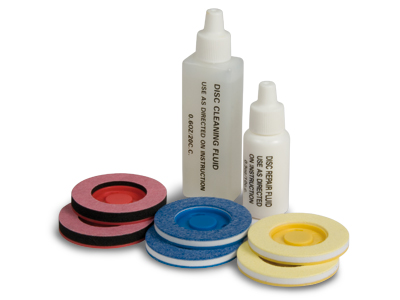 XDVDREPKIT
Professional Disc Repairing and Cleaning Refill
CODE: XDVDREPKIT
EAN: 5391508634275
supports
Product menu
printer friendly page

Product description
Discontinued product
Original Refill Kit for Exagerate Smart Disc Repair. The kit contains 1 cleaning fluid bottle 20cc, 1 repairing fluid bottle 10cc, 2 cleaning pads (blue), 2 repairing pads (yellow) and 2 buffing pads (pink). The cleaning and repairing fluids are non toxic and SGS certified.
package contents

2 Buffing pads (col. pink)
2 Cleaning pads (col. blue)
2 Repairing pads (col. yellow)
1 20 cc Cleaning fluid
1 10 cc Repairing fluid
Specifications and appearance are subject to change without prior notice.
---
Footer
Hamlet is a registered trademark by Riom Services Ltd
Registered in Ireland: No. 266378