Product details

product data sheet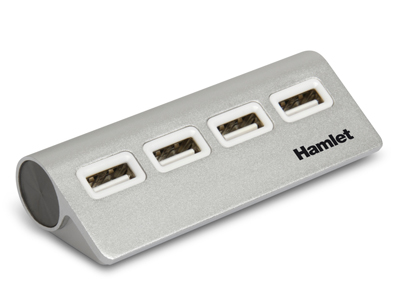 XHUB4020AL
4 Ports USB 2.0 Hub 480Mbps
CODE: XHUB4020AL
EAN: 8000130591654
supports







Product menu
printer friendly page

Product description
Hamlet 4 Port USB 2.0 is an external USB 2.0 Hub which allows you to replicate the USB 2.0 port of your computer to connect up to 4 devices. The USB 2.0 connection provides excellent performance and is compatible with all computers with a USB port.
Features
Adds 4 USB 2.0 High Speed (480Mbps) ports
Supports data transfer rate up to 480Mbps
Fully backwards compliant with USB 1.1
Supports up to 127 Hi-speed devices
Compact and stylish aluminum design, easily portable
Plug-and-play installation
Built-in USB cable (30 cm)
Dimensions: 89 x 37 x 20 mm
Weight: 46 g
Supports Windows XP/Vista/7/8/10, Mac OS X 10.4 or above, Linux
Package content
4-port USB 2.0 Hub
User manual
Specifications and appearance are subject to change without prior notice.