Product details

product data sheet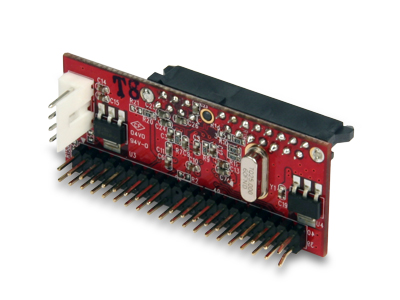 XIDESAPCB
SATA To IDE Universal Adapter
CODE: XIDESAPCB
EAN: 5391508634213
supports
Product menu
printer friendly page

Product description
SATA to IDE HDD converter is the ideal solution for converting Serial ATA Hard Disk or Optical Drives to a standard IDE interface. At the same time it converts integrated IDE controller of a computer or Hard Disk enclosure into a Serial ATA interface.
Features
Compliant with Serial ATA spec. 1.0
Supports 3.5" and 2.5" SATA HDD
Compliant with ATA specifications
Data transfer rates up to 133 Mbps
Plug & Play, no drivers required
Compatible with Windows, Mac, Linux
Connectors
40-pin male IDE connector
Serial ATA (SATA) port
4-pin power connector
Requirements
4-pin power supply connector
Computer with IDE host interface
Serial ATA HDD
WARNING
Use only the power cord supplied with the product. The use of a different cable causes damage to the adapter and connected hard disk.
Specifications and appearance are subject to change without prior notice.
---
Footer
Hamlet is a registered trademark by Riom Services Ltd
Registered in Ireland: No. 266378