Product details

product data sheet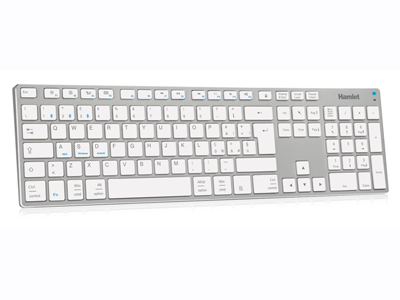 XKKITA-MCBT
Bluetooth Multimedia Keyboard for Mac & PC
CODE: XKKITA-MCBT
EAN: 8000130592842
supports



Product menu
printer friendly page

Product description
Silver Board Bluetooth is an extended wireless keyboard with Italian layout featuring a stylish aluminum design. The quiet low-profile keys are designed for a comfortable typing and the scissor mechanics ensures a fast and accurate typing. The numeric keypad is perfect for spreadsheets and data entry while Bluetooth wireless connection allows easy installation keeping your desk clean and free from cables. Silver Board Bluetooth has a universal layout compatible with Windows, Mac and Android. Use the Bluetooth configuration keys to connect up to three different devices and switch between them simply touching a button.
Features
Full size Italian keyboard with numeric keypad
Bluetooth wireless interface
Universal layout for PC and Mac computers
Quiet low-profile keys
Three Bluetooth configuration keys
On/Off switch and sleep function for energy saving
Specifications
Interface: Bluetooth 3.0
Wireless range. 10 meters
Working time: 80 hours
Battery capacity: 350 mAh
Life cycle: 10 millions keystrokes
Product dimension (W x D x H): 430 x 125 x 8 mm
Weight: 488 g
Compatible with Windows, Mac and Android
Package contents
Bluetooth keyboard
USB charging cable
User manual
Specifications and appearance are subject to change without prior notice.