Product details

product data sheet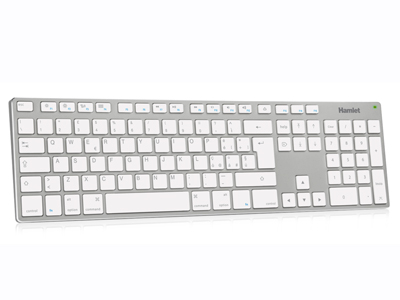 XKKITA-MCU
USB Multimedia Keyboard for Mac
CODE: XKKITA-MCU
EAN: 8000130592835
supports

Product menu
printer friendly page

Product description
USB Silver Board is an extended USB keyboard featuring a stylish aluminum design that perfectly complements Mac computers. The quiet low-profile keys are designed for a comfortable typing and the scissor mechanics ensures a fast and accurate typing. The numeric keypad is perfect for spreadsheets and data entry while standard USB interface allows easy installation on Mac desktops and laptops equipped with USB-A port.
Package contents
Full size Italian keyboard with numeric keypad
Slim and stylish aluminum design ideal for Mac computers
Interface: USB Type A connector
Plug & Play operation, USB powered
Quiet low-profile keys designed with a scissor mechanism for fast and accurate typing
Cable length: 1.8 m
Life cycle: 10 millions keystrokes
Product dimension (W x D x H): 430 x 125 x 8 mm
Weight: 498 g
Supports Mac computers with USB-A port
Compatible con Mac OS 10.4 or later
Package contents
Specifications and appearance are subject to change without prior notice.