Product details

product data sheet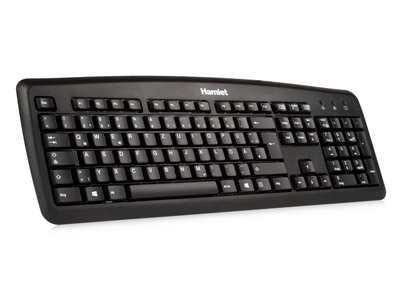 XKKITA2-D1W-BK
USB Keyboard German Language - Black Color
CODE: XKKITA2-D1W-BK
EAN: 8000130592354
supports







Product menu
printer friendly page

Product description
Hamlet keyboard with German language layout. Slim design for comfortable and long term use thanks to its key's hi-tech mechanical and laser printing. Hamlet keyboard has a special support which allows lock up position and right inclination. Its USB Plug and Play interface is compatible with any computer and Notebook. No drivers needed.
Features
High quality membrane standard keyboard
German language layout
Durable laser printing key tops
Black elegant stylish design
Plug & Play
Specifications
Compatible with Windows 98 SE/2000/ME/XP/Vista/7/8 and 10, Linux, Android
Life cycle: 10 millions keystrokes
Dimensions: 460 x 166 x 29.8 mm (L x W x H)
1.5 m durable cable
USB interface
Package content
Specifications and appearance are subject to change without prior notice.
---
Footer
Hamlet is a registered trademark by Riom Services Ltd
Registered in Ireland: No. 266378