Product details

product data sheet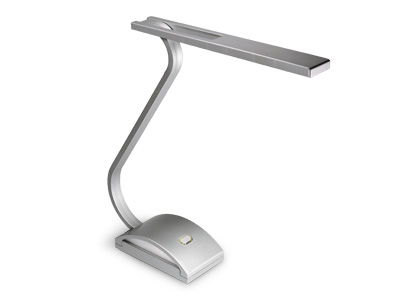 XLDDK12DS
Exagerate Zelig Desk 12W LED Technology Lamp
CODE: XLDDK12DS
EAN: 
supports
Product menu
printer friendly page

Product description
Exagerate Zelig Desk is a LED technology lamp and it provides comfort and brightness with anti-glare and flicker-free feature. The arm of the lamp may be adjusted for obtaining the best angle fitting your needs, by 3 different levels of brightness. The LED light is cold white and the lamp only consumes 12 watt even at the top of brightness (equivalent to a 90W standard bulb).






Specifications
Color: Silver
Material: Aluminum, PC
Input Voltage: 12V DC
Power Consumption: Max. 12 W
Light Source: High Power LED
Color Temperature: Cool White (5700 K)
Color Rendering Index: Ra > 75
Luminous Flux: 600 Lm ± 5%
Life Time: 30.000 hrs
Operation Temperature: -20 ~ 40 °C
Operating Humidity: 10% ~ 85% RH
Dimension: 416 x 86 x 418 mm
Weight: 1.5 Kg
Specifications and appearance are subject to change without prior notice.
---
Footer
Hamlet is a registered trademark by Riom Services Ltd
Registered in Ireland: No. 266378