Product details

product data sheet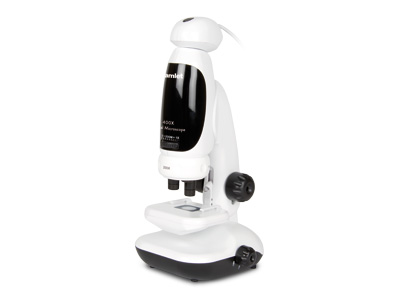 XMICROU400
3 in 1 USB Digital Microscope
CODE: XMICROU400
EAN: 5391508635142
supports






Product menu
printer friendly page

Product description
Smart digital microscope is a dual system device that can be used as a conventional microscope or as a USB powered digital microscope when using the digital camera adaptor. The microscope has three lenses with magnification power of 50x, 100x and 200x.
With the built-in 2x zoom, the device is able to magnify specimens up to 400x. When using the digital camera adaptor, specimens can be magnified up to 780x on a 17" computer monitor. The included software allows you to capture snapshots and video of the specimens being observed. In addition, the microscope body can be detached from the microscope stand and used as a handheld microscope.
Features
Conventional, digital and handheld 3-in-1 microscope
Easy turns into digital microscope with digital camera adaptor
Image head detachable for handheld use
Two LEDs for object illumination
Specimen drawer for collecting samples
Accessories
When using as a conventional / handheld microscope:
3 Magnifications: 50x - 100x, 100x - 200x, 200x - 400x
When using as a digital microscope:
Connects to a computer via standard USB port
3 Magnifications: 100x - 180x, 190x - 350x, 415x - 780x (17" monitor)
View live image on computer screen
One-touch snap button and video capturing
Timed-shot function
Viewing software for Windows and Mac included
Specifications
Connection type: USB 2.0
Effective magnification through eyepiece: 50x-100x, 100x - 200x, 200x - 400x
Effective magnification on 17" monitor: 100x - 180x, 190x - 350x, 415x - 780x
Effective viewing area (without zoom): Ø2.3mm (50x), Ø1.2mm (100x), Ø0.56mm (200x)
Effective viewing area (with max zoom): Ø1.2mm (100x), Ø0.6mm (200x), Ø0.28mm (400x)
Illumination: Two LEDs
Optics: 3-objective turret, 2x optical zoom
Sensor: CMOS, 1600 x 1200 pixels resolution (UXGA)*
Size: 112 x 134 x 252mm
Weight: 380 g
Requirements
When used connected to your PC:
1GHz Processor or above
512 MB RAM
1 USB port
800 MB free HD space
CD/DVD drive
Microsoft Windows XP/Vista/7/8 and 10, Mac OS X 10.5.6 or above
When used stand alone:
3x AA battery for LED illumination
Package content
Microscope (microscope body and stand)
Digital camera adaptor
Application CD
Instruction manual
3x Blank specimen slides
3x Blank specimen slides cover
1x Prepared slide with cotton swatch
Tweezers and dropper
* Resolution of revision 2.0. Resolution of previous versions 1280 x 1024 pixels.
Specifications and appearance are subject to change without prior notice.