Product details

product data sheet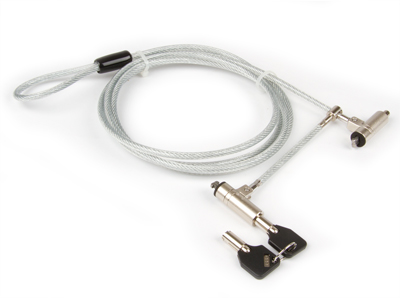 XNBLOCK180YK2
Security Cable for Notebook & Desktop PC with Dual Head Key Lock 180 cm
CODE: XNBLOCK180YK2
EAN: 8000130592958
supports
Product menu
printer friendly page

Product description
Hamlet Notebook Lock Dual is a dual head key locking Y-shaped security cable for laptop and desktop PC. This safety cable allows you to protect two devices simultaneously thanks to the double lock. A sturdy locking device featuring a high quality reinforced steel cable for maximum protection against theft. The lock utilises the security lock slot already built into your laptop and is supplied with 2 identical keys. The cable length is 180 cm.
Features
Y-shaped security cable with double lock

Protects your computer and another device (e.g. monitor) from theft
High quality reinforced steel cable for maximum protection
Easy to install. Keyed locking mechanism
Ideal for securing your computer and other device to a desk or other immovable objects
Cable length: 180 cm
The steel cable is coated with a plastic sheath to protect and preserve the equipment with which it is used.
Specifications and appearance are subject to change without prior notice.