Product details

product data sheet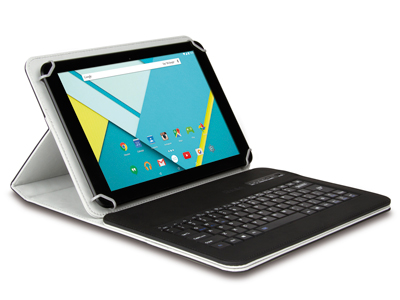 XPADCV101KBT2
Universal Cover with Removable Bluetooth Keyboard for 10.1" Tablet PC
CODE: XPADCV101KBT2
EAN: 8000130591593
supports








Product menu
printer friendly page

Product description
Hamlet Universal Cover 101 KBT2 is a practical protective case designed for 10.1" Tablet PC, equipped with wireless Bluetooth keyboard. This cover enables you to use your Tablet PC in an upright position with the ideal angle for comfortable typing and maximum ease of use, while protecting your device from scratches and shock. The Tablet PC is secured to the cover by special clips which allow free access to the buttons and side ports. The removable Bluetooth keyboard can be easily detached from the cover thanks to the magnetic clips. Closing takes place through a magnetic flap. Equipped with a USB cable for charging the keyboard battery.
Features
Cover case with stand for 10.1" Tablet PC
Removable Bluetooth keyboard with magnetic clips
Lithium battery rechargeable with micro USB cable
Android and iOS compatible
Specifications
Bluetooth V3.0 standard
Operating Distance range up to 10 meters
International keyboard layout
Operating Voltage: 3.0-5.0 V
Standby Time: 40 days
Charging Time: 3-4 hours
Lithium Battery Capacity: 150 mAh
Key life: 5 million strokes
Operation Temperature: -10 +55 °C
Product's dimensions (L x W x H): 20.4 x 27.4 x 3 cm
Tablet maximum size: 26.0 x 17.0 x 1 cm
Package content
Universal keyboard case
USB charging cable
User manual
Specifications and appearance are subject to change without prior notice.