Product details

product data sheet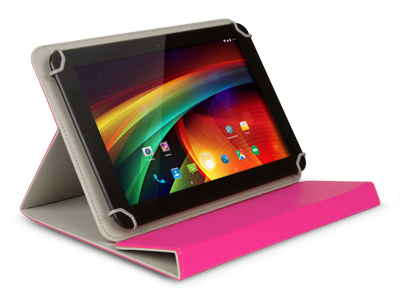 XPADCV780PN
Universal Cover for 7" and 8" Tablet PC - Pink Color
CODE: XPADCV780PN
EAN: 8000130591944
compatible with
Product menu
printer friendly page

Product description
Hamlet Universal Cover 780 is a practical protective case designed for 7" and 8" Tablet
PC which allows you to carry and use your Tablet while protecting it from scratches and
shocks. The cover can be easily folded and used as a stand to place the Tablet with the
ideal angle for comfortable typing and maximum ease of use. The Tablet PC is secured
to the cover by special clips which allow free access to the buttons and side ports.
Closing takes place through a magnetic flap.
Features
Universal cover for 7" and 8" Tablet PC
Usable as a stand with multiple viewing angles
Protects the Tablet against scratches and shocks
Soft imitation leather cover material
Clips fixing system on all corners
Magnetic flap closure
Package content
Universal cover for 7" and 8" Tablet PC Pink Color
Specifications and appearance are subject to change without prior notice.