Product details

product data sheet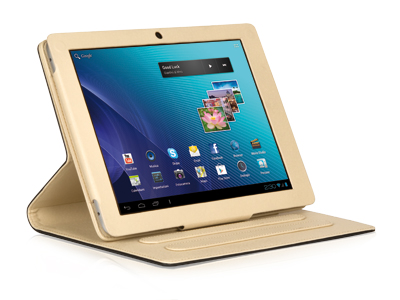 XPADCV97BKK
Protective Case Cover for 9.7" Tablet PC - Black/Beige Color
CODE: XPADCV97BKK
EAN: 5391508634855
compatible with
Product menu
printer friendly page

Product description
Zelig Pad Cover is a protective case cover for 9,7" tablet PC. It is equipped with a rotating support which allows to position the tablet horizontally and vertically with three different viewing angles. Provided with an exterior pocket ideal for carrying credit cards, tickets and other documents. Zelig Pad Cover is compatible with Tablet PC having external dimensions of 241 x 183 x 9.6 mm. This model is available in Black and Beige color.
Features
Soft faux leather case
Outer pocket for carrying documents
Supports for vertical and horizontal usage
3 different angles of inclination
Compatible with 9.7" Tablet PC of 241 x 183 x 9.6 mm size
Specifications and appearance are subject to change without prior notice.