Product details

product data sheet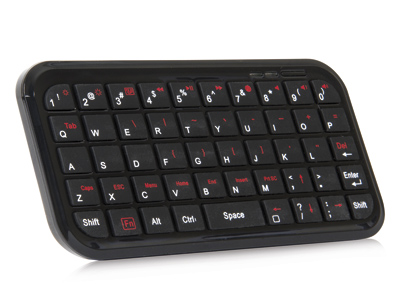 XPADKK090BT
Bluetooth Keyboard for Tablet PCs and Smartphones
CODE: XPADKK090BT
EAN: 5391508635234
compatible with









Product menu
printer friendly page

Product description
Hamlet Baby Bluetooth Keyboard is a built-in Bluetooth technology keypad, ideal for using Bluetooth compatible devices such as Tablet PCs (Android and iOS) and Smartphones. Supplied with internal rechargeable lithium battery and USB cable for battery charging, Baby Bluetooth Keyboard is portable and allows maximum ease of use.
Features
Bluetooth interface 3.0
US international layout, 49 keys, QWERTY
Bult-in rechargeable lithium battery
Slim and compact design
Micro USB port for battery charging
Power saving function
Range: 10 m
Charging time: 3-4 h
ON/OFF power switch
Size: 116 x 61 x 10 mm
Weight: about 50 g
Package content
Baby Bluetooth Keyboard
USB cable
Manual
Specifications and appearance are subject to change without prior notice.